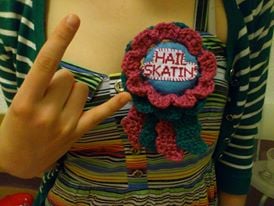 £

4.00
We all know derby is cooler than... horses.
So why should they get all the rosettes?
Ours are crocheted from finest wool and wit, and come with a neat safety pin back.
Choose your team/league colour (or just your favourites), and you can either have it blank for with a message of your choice.
Tell your shoved, er, loved ones how much they mean to you!
(Messages can be up to two lines long, seven characters per line. When you place an order for a be-messaged rosette, you'll receive an email asking for the details.)